Tag: Boston Marathon Bombings (page 2)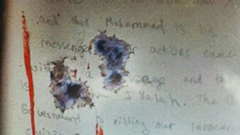 The Government responded to several of Dzhokhar Tsarnaev's motions today. In its response to his motion to suppress statements, it reprinted what Jahar has scrawled while hiding inside the boat:
I'm jealous of my brother who ha[s] [re]ceived the reward of jannutul Firdaus (inshallah) before me. I do not mourn because his soul is very much alive. God has a plan for each person. Mine was to hide in this boat and shed some light on our actions. I ask Allah to make me a shahied (iA) to allow me to return to him and be among all the righteous people in the highest levels of heaven. He who Allah guides no one can misguide. A[llah Ak]bar!
[More...]
(55 comments, 496 words in story) There's More :: Permalink :: Comments
Defense lawyers for Dzhokhar Tsarnaev filed a 23 page motion for discovery Friday. You can read it here.
The motion, which seeks a lot of information about Tamerlan and the family's history, is an attempt to get the Government to turn over documents that could be used as mitigation evidence in the death penalty phase to show Dzhokhar fell under the spell of his over-powering brother. The defense says it is asking for:
...any evidence tending to show that Tamerlan (Tsarnaev) supplied the motivation, planning, and ideology behind the Boston Marathon attack, and that his young brother acted under his domination and control … ."
The motion doesn't claim the FBI tried to get Tamerlan to be an informant. It says it has information from its interviews of family members that the FBI met with Tamerlan before his trip to Russia on more than one occasion and that the family said the FBI tried to get Tamerlan to be an informant. It's trying to find out if the the Government is in possession of information that supports the family's statements. [More...]
(1 comment, 932 words in story) There's More :: Permalink :: Comments
Dzhokhar Tsarnaev's defense lawyers have filed a motion (available here) renewing its request to lift the SAMs (special administrative measures) imposed by the Bureau of Prisons and to compel the Government to use a "taint team." The motion says "the defense is encountering obstacles related to FBI monitoring of family visits and BOP screening of materials that defense counsel need to review with the defendant."
When Dzhokhar Tsarnaev is visited by one of his sisters, the SAMs restrictions on him require the visit be monitored by the U.S. Marshals Service, Bureau of Prisons or FBI, so that the Government can determine if the visit is being used to pass messages soliciting or encouraging acts of violence or other crimes, or some other purpose that would violate the SAMs. The Government has recently said that an FBI agent present during a visit with one of his sisters heard Jahar make an inculpatory remark.
The original SAMs are here, and the defense argument against them is here and here. The modifications previously ordered by the Court are here.[More...]
(13 comments, 1170 words in story) There's More :: Permalink :: Comments
The judge in the Boston Marathon bombing trial of Dzhokhar Tsarnaev has set his trial to begin November 3, 2014. The defense had asked it begin in September, 2015.
The defense says the FBI has yet to turn over 2,000 pieces of physical evidence still being analyzed.
The defense has until June to decide on whether to seek a change of venue.
(2 comments) Permalink :: Comments
The United States will seek the death penalty for Dzhokhar Tsarnaev. It filed a notice today (available on PACER) listing the statutory aggravating factors and non-statutory aggravating factors. Among the non-statutory factors:
1. Betrayal of the United States. DZHOKHAR TSARNAEV received asylum from the United States; obtained citizenship and enjoyed the freedoms of a United States citizen; and then betrayed his allegiance to the United States by killing and maiming people in the United States.

2. Encouragement of Others to Commit Acts of Violence and Terrorism. In conjunction with committing acts of violence and terrorism, DZHOKHAR TASARNAEV made statements suggesting that others would be justified in committing additional acts of violence and terrorism against the United States.
[More....]
(2 comments, 234 words in story) There's More :: Permalink :: Comments
Dzhokhar Tsarnaev is challenging the restrictive prison SAMS (special administrative measures) BOP imposed on his prison communications, including those with his attorneys. The ACLU filed this Amicus Brief today.
Among the restrictions: Defense attorneys have to pre-clear any documents they want to show Jahar with the Government. The Boston Herald reports:
In an affidavit attached to the filing, one of Tsarnaev's lawyers stated that during a prison visit he was forbidden to show Tsarnaev photographs related to preparing his defense because they contained images of family members, which he is barred from seeing.
[More....]
(26 comments, 175 words in story) There's More :: Permalink :: Comments
I've complained a few times over the past months about the incomplete court docket in the Dzhokhar Tsarnaev case, suggesting that mainstream media should object. It's one thing to keep the contents of a motion or order sealed, it's another to keep secret the fact that a motion or order was filed. In May, there were 22 missing docket entries. The docket today shows more missing docket entries(and shows nothing has been filed since July 15.)
At last: A challenge from MA media:
GateHouse Media Inc., the parent company of several Massachusetts-based community newspapers — including The Herald News, the Patriot Ledger and the MetroWest Daily News — on Wednesday submitted a letter to federal district court objecting that the public docket maintained in the criminal case against Boston Marathon bombing suspect Dzhokhar Tsarnaev is missing entries.
I quoted the MA rules and posted a graphic showing the missing entries in May, along with a graphic of how it's typically done in cases in other districts -- including terrorism cases, here [More...].
(14 comments, 293 words in story) There's More :: Permalink :: Comments
Dzhokhar Tsarnaev has been indicted by a federal grand jury in Massachusetts. Among the charges are use of weapons of mass destruction. He is also charged in the killing of four people.
There will be a press conference at 3 pm ET.
The 74 page indictment is here.
(5 comments) Permalink :: Comments
All it takes is for one or two unnamed federal law enforcement officials to make an unsubstantiated claim and every media outlet runs with it as if it is true. The latest: Claims that Dzhokhar Tsnarnev told the FBI the bombs for Boston were made in the apartment Tamerlan Tsarnaev shared with his wife and that the brothers initially planned on bombing Boston on the 4th of July but it was so easy to build the bombs they moved up their timetable
Via CNN:
The bombs used in the Boston Marathon attack were built in the apartment that suspect Tamerlan Tsarnaev shared with his wife and child, a U.S. law enforcement official with first-hand knowledge of the investigation told CNN on Thursday. The official was not authorized to release the information.

....Tsarnaev and his younger brother, Dzhokhar, initially planned to carry out an attack on July 4, but their bombs were ready earlier than they expected and they decided to move up the date, a U.S. law enforcement official told CNN on Thursday.
Via ABC: [More...]
(15 comments, 565 words in story) There's More :: Permalink :: Comments
Don't listen to the Doogie Howsers of terrorism -- the self-proclaimed experts who learned their trade on the internet and because their views fit the government's agenda, were able to parlay it into a career of testifying against suspects at trial. The cable news loves to put them on. Everyone is a terrorist to them.
The Triangle Center on Terrorism and Homeland Security at Duke University's Sanford School of Public Policy has been publishing yearly reports on the number of homegrown Muslim-American terror incidents. Their February 1, 2013 report (for which data is provided) shows such incidents continued to decline in 2012, for the third year in a row:
"Fourteen Muslim-Americans were indicted for violent terrorist plots in 2012, down from 21 the year before, bringing the total since 9/11 to 209, or just under 20 per year. The number of plots also dropped from 18 in 2011 to 9 in 2012. For the second year in a row, there were no fatalities or injuries from Muslim-American terrorism. … Sixty-six Americans were killed in mass shootings by non-Muslims in 2012 alone, twice as many fatalities as from Muslim-American terrorism in all 11 years since 9/11."
[More...]
(17 comments, 943 words in story) There's More :: Permalink :: Comments