Tag: Abu Ghraib
U.S. Defense Contractor, Engility Holdings, whose subsidiary L3 Services supplied translators to Abu Ghraib and other U.S. prisons in Iraq, settled its lawsuit over the torture and abuse suffered by the Iraqi detainees. 71 detainees will equally share $5 million for abuse that occurred between 2003 and 2007. The Associated Press uncovered the document, available here. As for the guards:
Eleven soldiers were convicted of breaking military laws, but many received sentences of a just a few years. The last remaining soldier in prison convicted in the case was released in August 2011.
Bradley Manning's judge says he will receive 118 days off his eventual sentence if convicted due to the harsh conditions of his pre-trial confinement. The ruling, which took the judge an hour to read, has not been published. Considering he's facing a life sentence, that's hardly going to dissuade the military from similarly mistreating others.
The season premiere of Justified is tonight, on FX. This is an open thread, all topics welcome.
(144 comments) Permalink :: Comments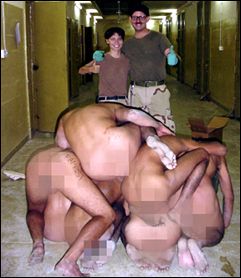 Charles Graner, the prison guard from Hell, has been released after serving 6 1/2 years of his 10 year sentence for torturing prisoners at Abu Ghraib.
At his trial, his lawyer claimed he was only acting as a cheerleader:
Graner's attorney said piling naked prisoners into pyramids and leading them by a leash were acceptable methods of prisoner control. He compared this to pyramids made by cheerleaders at sports events and parents putting tethers on toddlers.

"Don't cheerleaders all over America form pyramids six to eight times a year. Is that torture?" Guy Womack, Graner's attorney, said in opening arguments to the 10-member U.S. military jury at the reservist's court-martial.
More....
(19 comments, 805 words in story) There's More :: Permalink :: Comments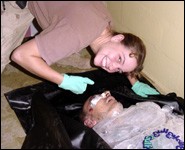 Time Magazine reports a federal grand jury is investigating the 2003 torture and killing of Manadel al-Jamadi at Abu Ghraib as a potential war crime. Years ago, navy seals were charged over the death. At least one went to trial and was found not guilty.
TIME has obtained a copy of a subpoena signed by Durham that points to his grand jury's broader mandate, which could involve charging additional CIA officers and contract employees in other cases. The subpoena says "the grand jury is conducting an investigation of possible violations of federal criminal laws involving War Crimes (18 USC/2441), Torture (18 USC 243OA) and related federal offenses." [More...]
(4 comments, 309 words in story) There's More :: Permalink :: Comments
Charles Graner, the prison guard from hell, convicted and serving 10 years, is having his appeal of his conviction heard today by the top military appeals court in the U.S.
If there is anyone I won't lose sleep over being incarcerated 10 years, it's him. He's still claiming he acted at the behest of higher ups.
Spc. Charles Graner, of Uniontown, Pa., is serving a 10-year sentence for stacking naked prisoners into a pyramid, knocking one of them out with a punch and ordering prisoners to masturbate while other soldiers took pictures.
(20 comments, 445 words in story) There's More :: Permalink :: Comments
Can it be five years since the horrendous photos at Abu Ghraib were released? Yes.
The ACLU has been fighting all this time to obtain more photos of the abuse. As a result of their 2004 lawsuit, the Defense Department will release additional photos from Abu Ghraib and other prisons in Iraq and Afghanistan on May 28.
In case all you remember is Lynndie England leading a detainnee around on a leash or a hooded detainee wired and standing on a box, there were many other kinds of physical abuse that took place. Some were quite bloody and left ugly scars.
Here are some photos that were released for the first time in 2006. Scroll through them. [More...]
(5 comments, 245 words in story) There's More :: Permalink :: Comments
The CIA wasn't the only agency involved in torture of detainees. A newly declassified report by the Senate Armed Services Committee shows that high level Bush officials approved the brutal interrogation techniques used by the military at overseas prisons. So now there's confirmation that the military, not just the CIA CIA were involved, and that Rumsfeld's denials were full of it.
The Senate report documented how some of the techniques used by the military at prisons in Afghanistan and at the naval base in Guantánamo Bay, Cuba, as well as in Iraq — stripping detainees, placing them in "stress positions" or depriving them of sleep — originated in a military program known as Survival Evasion Resistance and Escape, or SERE, intended to train American troops to resist abusive enemy interrogations. [More...]
(18 comments, 337 words in story) There's More :: Permalink :: Comments
The House Judiciary Committee today voted to subpoena Dick Cheney aide David Addington in its probe into the Bush Adminstration's interrogation practices.
Addington refused to testify without a subpoena. John Yoo has agreed to testify without a subpoena.
Former Attorney General John Ashcroft, former Under Secretary of Defense Douglas Feith, and former Assistant Attorney General Daniel Levin have also agreed to give testimony at a future hearing. Former CIA Director George Tenet is still in negotiations with the committee, according to House Judiciary Committee spokeswoman Melanie Roussell.

The Judiciary Committee hearings are meant to determine what role administration lawyers played in creating and approving interrogation procedures that went far beyond those traditionally used by U.S. forces, and whether any of them violated their legal or ethical obligations, said Committee Chairman John Conyers, D-Mich.
In related news, the Center for Constitutional Rights has filed a new lawsuit alleging torture at Abu Ghraib by military contractors. [More...]
(12 comments, 266 words in story) There's More :: Permalink :: Comments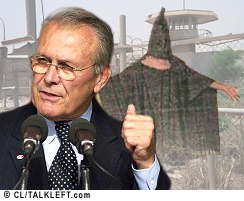 Lynndie England, the poster woman for the torture at Abu Ghraib, finished her three year jail sentence a year ago after serving 1 1/2 years. (It wasn't easy time.) She's just given a long interview to the German magazine, Der Stern, which has an English version up.
The headline: Rumsfeld knew.
[England] tells the magazine that when her unit arrived at the prison outside Baghdad in September, the prisoners were already naked, were forced to wear women's underwear, and were being put in stress positions. "The company that we relieved was doing the exact same stuff," she is quoted as saying. "We just took over from them."
I wonder if he also knew non-medical personnel were performing amputations at Abu Ghraib?
(9 comments) Permalink :: Comments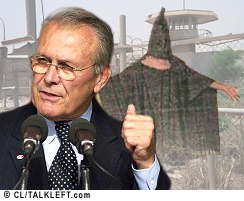 Michael Keller is a computer programmer from Tampa who joined the Florida National Guard where he was in charge of oversight at Abu Ghraib prison. His goal was to protect the inmates. He has written a new book, Torture Central: E-mails from Abu Ghraib. From the St. Petersburg Times:
Keller provides new details of the torture he witnessed at Abu Ghraib.
"The detainee is then laid flat on a medical litter, and another litter is placed on top of them producing a sandwich effect," he wrote in Torture Central: E-mails from Abu Ghraib. "The two litters are then tightened together with ratchet straps, creating a vice. The detainee remains crushed between the litters for one hour, with the guard checking every 15 minutes to ensure that the detainee still has a pulse."
There were other abuses, including those involving children: [More...]
(5 comments, 351 words in story) There's More :: Permalink :: Comments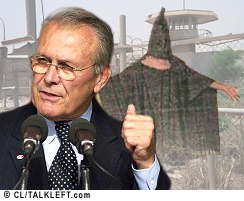 The Center for Constitutional Rights and other human rights groups filed a complaint in Paris against Donald Rumsfeld last night alleging he ordered and authorized torture.
Rumsfeld is in Paris to give a talk on foreign policy.
"The filing of this French case against Rumsfeld demonstrates that we will not rest until those U.S. officials involved in the torture program are brought to justice. Rumsfeld must understand that he has no place to hide. A torturer is an enemy of all humankind," said CCR President Michael Ratner.

"France is under the obligation to investigate and prosecute Rumsfeld's accountability for crimes of torture in Guantanamo and Iraq. France has no choice but to open an investigation if an alleged torturer is on its territory. I hope that the fight against impunity will not be sacrificed in the name of politics. We call on France to refuse to be a safe haven for criminals." said FIDH President Souhayr Belhassen.
More....
(16 comments, 364 words in story) There's More :: Permalink :: Comments
Monday, Lt. Army Lt. Col. Steven L. Jordan goes on trial at Ft. Meade for his role in the Abu Ghraib prison scandal. He is the only officer charged. His claim to fame? According to the charges against him, he approved the use of dogs and nudity to intimidate the prisoners.
If convicted on all counts, Jordan faces 16 1/2 years in prison.
It's not just cooperators testifying against him. Maj. Gen. George R. Fay who investigated the abuses and wrote a report found:
Jordan's tacit approval of violence during a weapons search on Nov. 24, 2003, "set the stage for the abuses that followed for days afterward."
Jordan has a two-fold defense.
More...
(7 comments, 353 words in story) There's More :: Permalink :: Comments
Happy Fathers Day, everyone. How about a Sunday open thread?
The must-read of the day in my view is Seymour Hersh's New Yorker article on Abu Ghraib, The General's Report.
Taguba also knew that senior officials in Rumsfeld's office and elsewhere in the Pentagon had been given a graphic account of the pictures from Abu Ghraib, and told of their potential strategic significance, within days of the first complaint.
A sample of what we didn't see:
I learned from Taguba that the first wave of materials included descriptions of the sexual humiliation of a father with his son, who were both detainees....Taguba said that he saw "a video of a male American soldier in uniform sodomizing a female detainee." The video was not made public in any of the subsequent court proceedings, nor has there been any public government mention of it.
Why didn't we see them?
Such images would have added an even more inflammatory element to the outcry over Abu Ghraib. "It's bad enough that there were photographs of Arab men wearing women's panties," Taguba said.
More on Rumsfeld:
(35 comments, 465 words in story) There's More :: Permalink :: Comments
The torture case charges against former Defense Secretary Donald Rumsfeld, Alberto Gonazales, George Tenet and others have been dropped, at the request of the prosecutor.
In her decision, German Federal Prosecutor Monika Harms argued that the case does not confront crimes committed on German soil, nor involve victims or perpetrators with ties to Germany. Harms also stated that the investigation does not have a reasonable chance of succeeding.

The case was filed in Germany because of the country's obligation under the German law of universal jurisdiction to try cases that deal with torture and other serious crimes, regardless of where the crime took place or what the nationality of the victims or perpetrators.
The Center for Constitutional Rights, which brought the case, says:
"Fundamentally, this is a political and not a legal decision," said CCR President Michael Ratner. "We will continue to pursue Rumsfeld, (U.S. Attorney General Alberto) Gonzales, and the others in the future -- they should not feel they can travel outside the United States without risk. Our goal is no safe haven for torturers."
The case may be refiled in Spain.
(26 comments) Permalink :: Comments
Today, in federal court, the ACLU and Human Rights First argued its case that Secretary of Defense Donald Rumsfeld should be held accountable for the torture and abuse of detainees in U.S. military custody.
Today's hearing marked the first time a federal court has considered whether top U.S. officials can be held legally accountable for the torture scandal in Iraq and Afghanistan.
Background:
The ACLU and Human Rights First filed the lawsuit in March 2005 on behalf of nine innocent civilians who were detained by the United States military in Iraq and Afghanistan. While in U.S. custody, the men were subjected to abuse, torture and other cruel and degrading treatment, including severe and repeated beatings, cutting with knives, sexual humiliation and assault, mock executions, death threats, and restraint in contorted and excruciating positions. All of the men were released without charge.
(12 comments, 465 words in story) There's More :: Permalink :: Comments