Tag: NBC
Update: Brian Williams has released a statement saying he will take a leave of absence from NBC News for several days:
As Managing Editor of NBC Nightly News, I have decided to take myself off of my daily broadcast for the next several days, and Lester Holt has kindly agreed to sit in for me to allow us to adequately deal with this issue. Upon my return, I will continue my career-long effort to be worthy of the trust of those who place their trust in us.
***
Two days of trending on Twitter is apparently all it takes for NBC News to launch an internal investigation into Brian Williams' mis-telling of his experience on a helicopter of Iraq. [More...]
(87 comments, 419 words in story) There's More :: Permalink :: Comments
George Zimmerman has filed his defamation lawsuit against NBC and three reporters for their false editing of his non-emergency call to police to report Trayvon Martin. The reporters are Ron Allen, Lilia Lucianno and Jeff Burnside. Luciano and Burnside were since fired. The complaint is here and a website for the case is here.
On Thursday, December 6, 2012, George Zimmerman filed a legal complaint against NBCUniversal Media, LLC and three individuals who were employed by NBCUniversal Media, LLC, Inc. during the time relevant to the complaint: Ron Allen, Lilia Rodriguez Luciano, and Jeff Burnside. The 24-page complaint alleges "NBC News saw the death of Trayvon Martin not as a tragedy but as an opportunity to increase ratings, and so set about to create the myth that George Zimmerman was a racist and predatory villain." The complaint, filed in Seminole County, demands a trial by jury, and demands damages sufficient to invoke the jurisdiction of the Circuit Court.
The complaint was filed in the Seminole County Circuit Court. His lawyers are Mark O'Mara and The Beasley Law Firm in Philadelphia. [More...]
(117 comments, 325 words in story) There's More :: Permalink :: Comments
In the continuing saga of NBC's prejudicial editing of George Zimmerman's call to police to report a suspicious person, Trayon Martin, TV Newser reports NBC reporter Lilia Luciano has been fired. But keep reading, I have additional information and transcripts with sourcing to NBC shows.
First, backing up to April 9, I reported that the mangled edit used in a Today Show segment on March 27 was also used in a March 22 Today Show segment during a report with Lilia Luciano, who was reporting live from Sanford. Here's the March 22 transcript.
According to TV Newser, a different version of the mangled edit appeared in a Luciano segment on the Today Show on March 20. So we're up to three airings of clips with Zimmerman comments taken out of sequence on the Today Show. [More...]
(42 comments, 1997 words in story) There's More :: Permalink :: Comments
Update 10:00 pm: NBC 6 Miami corrected all three online articles discussed below around 6:00 - 7:00 pm ET. Since they don't note the corrections, I have added in screengrabs I took last night as verification. On all versions of the articles, scroll to the bottom to see the original date and time of publication.
Also, I don't know if NBC or NBC 6 Miami has seen this post, but if they have, it's probably because it was linked to by law professors Ann Althouse and Glenn Reynolds, aka Instapundit, who get far more traffic.
******
Original Post
Saturday and Sunday, Reuters reported it had interviewed MSNBC News President Steve Capus and others at NBC and got "the fullest explanation yet" of the network's racially-charged, misleading edit of George Zimmerman's 911 call that appeared on the Today Show on March 27. It was just a matter of time pressures inherent in morning news production, that was simply missed by the network's editorial controls, which include senior broadcast producer oversight, script editors, and sometimes legal standards review.
[More...]
(19 comments, 2071 words in story) There's More :: Permalink :: Comments
Will

LIFE

imitate art or tell it like it is?
by Kirsten D. Levingston
What happens when a cop is wrongly convicted of murder, serves a dozen years in prison, is freed by DNA, and returns to the very department responsible for the miscarriage of justice against him? We'll find out this Wednesday at 10p. when NBC premieres its new crime drama, LIFE.
The show's protagonist is LAPD police officer Charlie Crews, convicted of a triple murder he claims he did not commit. Sentenced to a life term at a maximum security prison Crews loses his job, family, and friends before a DNA test proves his innocence.
How does LIFE's compelling narrative stack up to the reality of today's justice system? While art imitates life in some surprising ways, there are some differences that deserve our attention.
(944 words in story) There's More :: Permalink :: Comments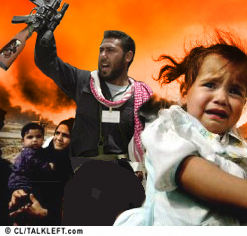 NBC News has officially labeled Iraq a civil war. Dan Froomkin writes in the Washington Post:
Here's what Matt Lauer announced on NBC's Today Show this morning: "As you know, for months now the White House has rejected claims that the situation in Iraq has deteriorated into civil war. And for the most part, news organizations, like NBC, have hesitated to characterize it as such. But, after careful consideration, NBC News has decided the change in terminology is warranted -- that the situation in Iraq, with armed militarized factions fighting for their own political agendas, can now be characterized as civil war."
Think Progess has some video of MSNBC's Contessa Brewer announcing the decision was made to call it a civil war this weekend.
(65 comments, 457 words in story) There's More :: Permalink :: Comments