Tag: prisoner abuse
Last week, Congressman Bobby Scott (D-VA) reintroduced his Prisoner Abuse Remedies Act. As the New York Times opines today, this is a bill Congress needs to pass.
The culprit is the Prison Litigation Reform Act, (PLRA) passed under President Clinton in 1996. It was aimed at reducing frivolous lawsuits by prisoners, but due to its requirement that the prisoner sustained a physical injury and exhausted all administrative avenues before filing suit, it became a vehicle through which prisons and courts denied claims by inmates who were sodomized (finding no physical injury) and the victims of other conduct, such as "strip-searching of female prisoners by male guards; revealing to other inmates that a prisoner was H.I.V.-positive; forcing an inmate to stand naked for 10 hours."
Juveniles, who are most at risk in prison, often have the hardest time following through with the administrative hurdles. [More...]
(5 comments, 256 words in story) There's More :: Permalink :: Comments
A new Justice Department report on conditions at the Cook County jail in Chicago finds the conditions at the jail deplorable.
Cook County Jail does not meet minimum constitutional standards and routinely puts inmates at serious risk, U.S. Atty. Patrick Fitzgerald said Thursday at a news conference following the release of a scathing Justice Department report on the facility.

The jail falls well short of basic standards, Fitzgerald said, and inmates have been subjected to violence and poor medical care as a result. Among the chief concerns is that the jail fails to protect inmates against beatings, both by corrections officers and other prisoners.
Fitzgerald said "some guards have engaged in organized reprisals against inmates who insult them." Also,
Health care also is a serious problem, the Justice Department found. The report cited an example of an inmate who contracted sepsis from an untreated gunshot wound and died. Another had to have a limb amputated.
Go to jail, lose a limb or die? America. Prison Nation. [More...]

(18 comments, 384 words in story) There's More :: Permalink :: Comments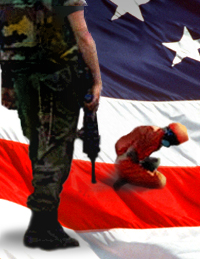 The FBI has released new documents pursuant to the ACLU's Freedom of Information Act request showing Guantanamo detainee abuse. They detail abuses witnessed (but not performed by) FBI personnel. (You can view the released documents here.)
FBI agents documented more than two dozen incidents of possible mistreatment at the Guantanamo Bay military base, including one detainee whose head was wrapped in duct tape for chanting the Quran and another who pulled out his hair after hours in a sweltering room.
(15 comments, 392 words in story) There's More :: Permalink :: Comments